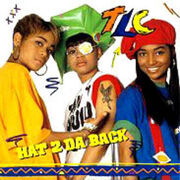 "
Hat 2 Da Back
" is a song by American R&B/Hip-Hop girl group TLC that was released as the trio's fourth and final single from their debut album
Ooooooohhh... On the TLC Tip
. Unlike its predecessors, the single only achieved moderate success, peaking at #30 on the
Billboard
Hot 100 and #14 on the Hot R&B/Hip-Hop Singles & Tracks chart.
Background and composition
Edit
"Hat 2 Da Back" was written by TLC member Lisa Lopes along with Dallas Austin, Kevin Wales, James Todd Smith, Dwayne Simon, Brian Latture, Harry Casey and Richard Finch. Produced by Austin, "Hat 2 Da BacK" is an uptempo R&B and pop song with traces of new jack swing in its composition that's about being comfortable in your own skin and sticking to your own style.
Music video
Edit
The music video for "Hat 2 Da Back" features all three members of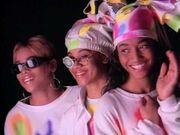 TLC performing the song onstage for a crowd of people and one man in particular is imagining the girls out of their baggy, colorful clothing and in more mature, sexy, skin tight oufits. The video also features black-and-white shots of the girls performing the song against a brick wall and color shots of two eldery ladies watching TLC perform the song with their dialogue appearing in thought bubbles.
Track listings
Edit
"Hat 2 Da Back" (Remix Radio Edit) - 4:14
"Hat 2 Da Back" (Extended Remix) - 5:56
"Ha 2 Da Back" (Remix Instrumental) - 4:16
"Hat 2 Da Back" (Extended Remix) - 5:56
"Hat 2 Da Back" (Remix Radio Edit) - 4:14
"Hat 2 Da Back" (Album Version) - 4:16
"Hat 2 Da Back" (Remix Instrumental) - 4:16
"Hat 2 Da Back" (Radio Edit) - 4:07
"Hat 2 Da Back" (Album Version) - 4:16
"Hat 2 Da BacK "(Radio Edit) - 4:14
"Hat 2 Da Back" (Album Version) - 4:20
"Hat 2 Da Back" (Instrumental) - 4:20
"Hat 2 Da Back" (Radio Edit) - 4:07
"Hat 2 Da Back" (Album Version) - 4:16
"Hat 2 Da Back" (Instrumental) - 4:16